In a life charged with cut-throat competition, stress is an ever growing phenomenon. Not only does it have bearing on our brain, but also on our heart. Much of our energies are exhausted by stress and hence to lead a de-stressful life means to possess more power. An enlightened mind leads to an enriching life. If Living is an Art, its Management is a Science. And what better way to learn the Management of Life from a teacher who has embedded the Principles of Good Life in his own life!
How does it help?
Life Management helps us to build our capacities and sharpen our memory. It teaches us to utilize our time effectively and canalizes our efforts towards the road to success. It helps us to brush up our leadership qualities and directs us to positive thinking. These ultimately create equilibrium in life and relationship and bring in contentment and satisfaction.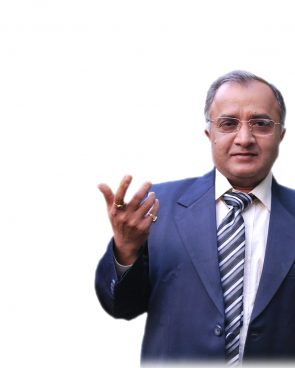 Who would benefit?
Almost anyone – be it students,, executives or house-wives.
How is it imparted?
Through Public Lectures, Workshops and Personal Counseling.
What are the areas covered?
Management theories of Hanuman
Time Management
Mind Management
Stress Management
Relationship Building
Decision Making
Key to Success
Exclusive motivational dose
Communication skills
Personality Development
Leadership Development
Influencing your Boss
Happy Married Life
Power of positive thinking
Bringing forth hidden power
Spirituality
Living with creativity
Message of Bhagwat Gita
Art of solving problems
Art of making yourself effective
Dialogue with Nature
Art of Study
---
Where can he be contacted?
Dr. Vijay Agrawal