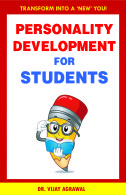 In this day and age, it is not possible to win the competition of life based only on studies. To stay ahead in life, you need to be different and unique. This is exhibited in your personality, which makes you stand out even in a crowd.
After the success and popularity of 'The Art of Study', 'Time Management for Students and 'Students and the Power of Mind', Dr. Agrawal has added another book 'Personality Development for Students' in this series.
The book mentions things that are important for a student to develop an attractive personality. Students will also get to learn about body language, communication skills, manners and dressing etc through the book.
This book will eliminate the gap between an average student and an exceptional one. This book is for those students who want to win the race of life and career.
PRICE- Rs. 155
PUBLISHER- Benten Books