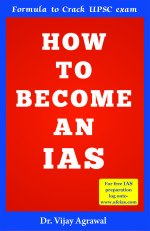 You may have any query about the IAS exam, this book will give you a solution – you will find answers to all your doubts on preliminary exam, mains and interview.
The book talks to you, in a detailed and simple manner so that there is nothing you don't understand.
The book doesn't deal in exam-related theories. It talks about practical things that you can actually do and do wonders with.
The truth is that this book is a sort of 'coaching institute', a handbook and undoubtedly an 'encyclopedia' for all IAS aspirants.
PRICE- Rs. 250/-
PUBLISHER- Benten Books